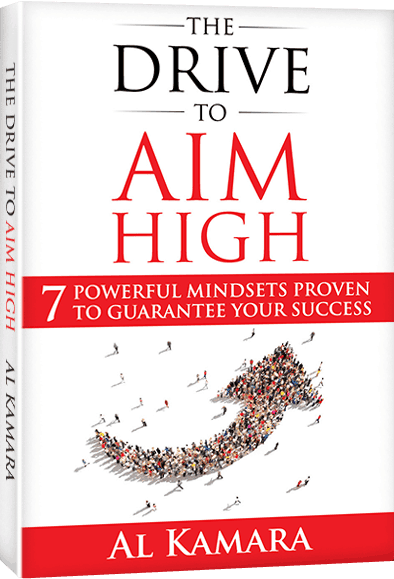 proven strategies from the world's most successful business leaders
Get Motivated and Aim High!!! Understand how to apply the Seven Powerful Mindsets into your daily life and get moving towards dreams.
Enter your billing information below to take your 1st Step toward Success!
Maximize Your Understanding of Life through the Observation Mindset
Identify Hidden Possibilities with the Possibility Mindset
Never Give Up On Your Hopes & Dreams with the Resilience Mindset
Develop Your Skillset with the Passion Mindset
Stop Fearing Failure with the Courage Mindset
Elevate Your Spirit & Keep Moving Forward with the Persistence Mindset
Think & Act Like A True Leader with the Legacy Mindset
Please email my Client Support at:
contact@al-kamara.com
We will NEVER share, trade or sell any online information that you provide us ever!
All your personal information that you submit is encrypted and 100% safe and secure.
What people are saying about:
"The Drive to Aim High is a fantastic book that lays the foundation for a successful mindset in a clear, concise, and organized manner. This book will help all individuals from a variety of economic backgrounds and upbringings set their mind for success. This book is a must read and will certainly help you on the road to success."  — Marcuw
"I love how the author detailed how he used the power of mindset to overcome obstacles and achieve success.These mindsets transcend time Awesome777" — Karmen Hunter

We Protect
Your Privacy

100% Satisfaction
Guaranteed

Your Data is
Safe With Us